Illuminate Your World With A Book!
Don't judge a book by its cover, they say, and in this case it really is true. That's because this lamp looks like an ordinary book when it is closed, but when you open it up, the LED light shines and the pages form a beautiful fan of smoothing light.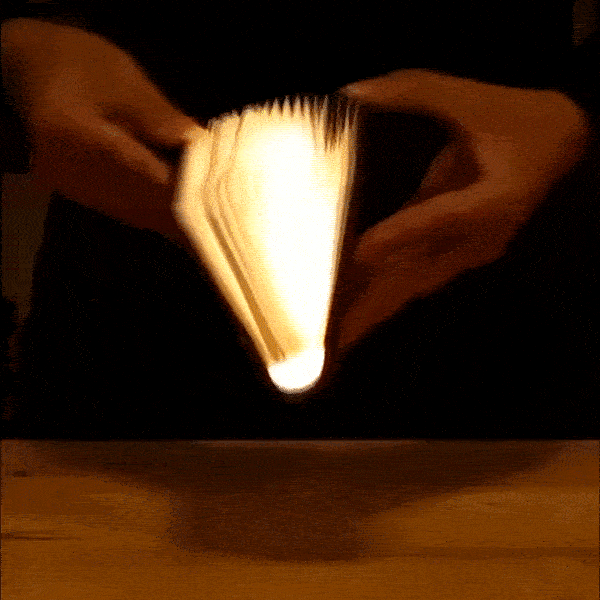 Since it is cordless, it is easy to place anywhere you like around the house. It is just as attractive on the night stand among the rest of the books in the pile, as it is on the book shelf. Or else, place the book lamp in the window so that the neighbours can see what a brilliant reading head you have!
PORTABLE and LIGHTWEIGHT - delivers unparalleled strength with light enough material, convenient to throw into your bag like a book, easy to carry around, good for indoor desk table wall lighting.

TOP QUALITY - Made of environmental white maple cover and Tyvek paper, ensure the bending will not break up or cause other damages, provide the added durability to be a wonderful wooden lamp.

MAGNETIC DESIGN - No button, No switch, easy to setup or use, can be shaped as a round or half circle, provide easy access to the iron surface.
SPECIFICATION:
Light color: warm white, white
Battery: 1200mAh Li-ion battery (built-in)
Charging voltage: 5V/500mA
Color temperature: 3500K
Lumen: 287.1lm
LED: 4pcs
Charging indicator: charging ( red light ); full charge (blue light)
Feature: 0 – 360 degree foldable
Package contents: 1 x Folding Book Lamp, 1 x USB cable
Size: Small - 10x7.9, Medium - 14.5x10.5, Large - 22x16
The best customer service only for you 24/7/365 
We believe our products are some of the best in the world. To back this up, we provide all customers with a 30-day RISK-FREE warranty.
We understand buying items online can sometimes be a daunting task and want you to feel certain that there is ZERO risk shopping at Interiqus.
You can contact us by emailing us to help@interiqus.com.
Customer Reviews
It reached Moscow in two weeks, quickly. Nice lamp! You can safely order.
Very nice, beautiful, well arrived, there are two colors of light: a white, a yellow The book is magnet to hold it open in full, + Charger
Arrived in six weeks, same the pictures. It's so cute, very very good led lamp book. I love it! The lamp has three tones of light: white, yellow and soft yellow. Perfect gift for friends!